Jen Beirola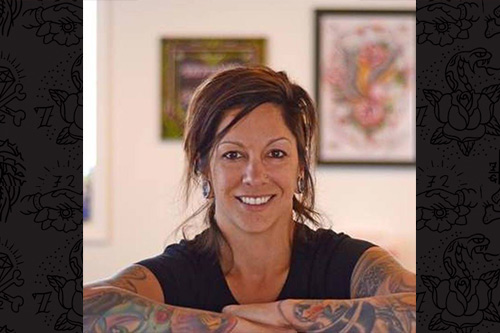 Hometown: Newport, RI
Tattooing since: 2000
Influences: Travel, Japanese and Asian Arts, Nautical imagery, Traditional American Tattooing, Calligraphy…
Instagram: @jenbeirola
Facebook: jenbeirola
Biography
Jen Beirola is an east coast transplant who started her tattoo career in 2000 while serving in the US Airforce.  She was stationed near Omaha, Nebraska and had the opportunity to train and work at Grinn & Barrett Tattoo.  At the time, Grinn & Barrett was a street shop focusing mainly on Fineline (black and grey) tattooing.
Her residency at G&B led to her purchase of the shop in 2006.  She has since developed a reputation that has made her one of the most respected studio owners/tattoo artists in the industry.  Jen maintains a busy travel schedule using Grinn & Barrett as a home base.  Tattooing around the US and abroad amongst the worlds best artists keeps her on top of her game in a rapidly evolving industry.
Jen likes to use strong images and has a keen eye for body placement.  She ensures that the tattoo will compliment the body and look as though it belongs there.  She often sources Japanese and Traditional American imagery, but is an extremely versatile artist overall.  Jen prefers to work on a predominantly walk-in basis to keep as little time between the consultation and tattoo as possible. Catch her at Grinn & Barrett or a convention near you.
Tattoos
Art
Press
Jen's work can be seen in the following magazines.
Jen did my 1/2 sleeve and I love every part of it! I took her my ideas and it was like she read my mind. It's beautiful! I recommend G&B to everyone I meet!

- Bekka M.

Grinn & Barrett is the best tattoo shop I've been to (and I've been to a few). The shop is bright and clean, the staff is friendly and Jen does AMAZING work. I have 3 tattoos from her and I love them all. They are colorful and she comes up with ideas and sketches that are personalized for YOU. I can't express enough how much I love her work….but I can say this, I only want Jen to tattoo me…I think that says a lot about what I think of her designs and skill as a tattoo artist. By far THE BEST!!! Thanks Jen!

- wendyc152@aol.com

Jen is amazing. She is working on my sleeves, every piece means something to me about my life, she takes the time to understand that and makes everytime I get work done memorable. She is a true artist and an amazing women…

- Erin

Jen has done both of my tattoos that I have. And I love both of them. I won't go anywhere else to get a tattoo!! She did an awesome sunset on my back that couldn't be done better! Thanks Jen!

- Kate

Jen is Awesome! She really puts your ideas into fantastic artwork.

- Terry J.

Jen is the best! She just put a half-sleeve on me at the Visionary Expo in Miami and it looks awesome! Her work is outstanding and her personality rocks. I definietly recommend her to anybody looking for a quality tattoo and great tattoo experience.

- Matt

After two others, Jen is the only artist I'll go to now!

- steve

I tried to have a lot of people draw out the wings that I wanted on part of my tattoo. There was no way I was going to get something I didnt like. The first time she drew it, it was perfect! I reccomend her to all of my friends and Im going back soon to get another!

- christina

Outstanding Samurai tattoo! You rock and I can't wait to get my next tattoo. Let's find a mean dragon to go with the samurai.
I would not go anywhere else, Grinn & Barrett is the place to go. Thanks, Jen!

- Pascal

I came in with a very specific tatoo in mind and just a small picture on my phone. She was very patient with me did exactly what I wanted color and all. She really exceeded my expectations I am extremely happy with my tattoo and I cant wait to refer people to her and see more of her work.

- Tena

jordan logo with my sons birthday under it. super clean lines bold color! had for awhile looks like it was done today!

- steven

Jen did my first tattoo and totally made me feel at ease. I came in with an idea and she suggested something different which was perfect for what I needed. The shop and everyone there was amazing, will definitely be back!

- Krystal

I took a couple of ideas in to Jen and let her roll with it. She knew EXACTLY what I wanted without me having to say a word. She is amazingly talented, easy to talk to, and gave me one of the most beautiful tattoos I've ever seen. My wife loves this tattoo!! Her shop is bright and super clean, staff is friendly and customer-focused. I'll be back!! Thanks, Jen!

- Chad

miss you so much lady !~how are you ~find you is very hard ~my english is poor !do you remebei me RIP in china
hope you all be fine keep the call ! great lady!
china your fans: yangrui

-

china tibet boy yangrui

her art and tallent is simpley AMAZING thanks jen

- brad

Let's see where do I begin … I have 4 tattoo's and Jen did my last one. Out of all of them that was tattoo that came out the best, I have gotten many many compliments. She is an extremely professional tattoo artist … she will not stop untill the tattoo is perfect to YOUR body. She did such a great job that I am now gonna have her do my entire side …she is EXCELLENT and HIGHLY recommended. Thank you Jen

- Sandy

Im looking to add to an existing tattoo on my back and would like to see you about it. What is your availability?

- lisa johnson

I had my first tattoo done by Jen last weekend, and it would've been tough to have had a more pleasant experience. The shop was clean, everyone who worked there was friendly and forthright, and (of course) the tattoo looks great (I've been getting a lot of compliments, even from people who preface with "I normally really dislike tattoos").

I won't hesitate at all to refer people to G&B. The only thing I'll suggest is that people who get shoulder-blade tattoos look away from the tattoo, rather than toward; I had a sore neck for a few days after because I was looking the wrong direction.

Thank you so much, Jen!

-

Andrew Ek

Jen did an amazing coverup on my entire stomach… She had great ideas to cover it completely up…You can't even see what was there….Amazing piece of Art…Definitely coming back for more.

- Ashley Anderson

Does Jen do Samoan tattoos? she did my tattoo and i was SO impressed, and i want another from her, and i want it to be a Samoan tattoo on my shoulder/upper arm.

- kyle

Amazing artist, did my first (real) tattoo, and still one of the only people I trust to tattoo me. May have something to do with the fact that shes my sister but thats irrelevant…her work is amazing and she is amazing. Love you Jen

- Joey

jen did a memorial tattoo for me a scroll with two rose's on it a long stem laying across the top and a single rose along the side with words blood ~n~tears in black and white amazing work still looks great 3 yrs lata thanks Jen

- Rodney jr.

She did a great job on my tattoo. She was confident with her work and made it such a great experience. It turned out so awesome and I love it. Don't think I could have made a better choice for my first tattoo.

- Ashley

Jen has done a few tats for me, one being a half sleeve which we are finishing up hopefully before I leave on my trip tp Hawaii, I want to look awesome and Jen is the woman to get it done. The way she mixes her colors on you are amazing. If you want something to be proud of, go see Jen

-

gina larson

Jen tattooed the back of my right hand. I gave her a simple image to start with and let her do her thing. The tattoo she produced far exceeded my expectations. Now I have a beautiful lantern done by an amazing artist. Thanks jen, I'll be back for more work.

- jason conn

Jen did my first tattoo on my feet and im so in love with it. She acted really interested in my idea which made me feel at ease. She was really cool and explained everything to me so there wouldn't be any surprises when tattooing. She also talked with me through it all and tried to get to know me and it made me feel alot more comfortable. It turned out so beautiful! I've been getting tons of compliments, even from people who don't like tattoos. The shop was very clean and nice and open. Im definitely coming back for more!

- Rebecca

Jen gave me a great tattoo it is a big pot leaf the color is great . she had a great attitude and made it fun. With out a dout Jen will be hank my go to person for tat work. Thanks Jen.

- william Bates

Jen did a great job on my pot leaf tattoo the color is out standing so in the future Jen will be my go to person for my tattoo work.

- william Bates

Jen did my first tattoo back in 2011 (a large back piece).I love it so much, that I plan to drive the now 800 miles I live from Omaha to visit and have more done.

- Jessica Russell

Hi Sydney,
You probably don't even remember asking for a tattoo of a heart with music notes. But, I had missed it and just found your request. It ended up in a comment section of my website. Anyway, If you'd like that tattoo or anything else come in or call and I'll be happy to work with you.

402-553-7714
Jen Beirola
Grinn & Barrett Tattoo

-

Grinn and Barrett

I would like to express my gratitude
to Jen for creating such a nice
atmosphere in her shop. And to
John, who helped me through the
process of communicating long
distance with the artist. Most of
all, I want to thank my artist,
Jeremiah, for taking my ideas
and creating a unique tattoo that
exceeds my concepts in every way.
Thank you all again.

- Barbara Diehl