Jeremiah Connor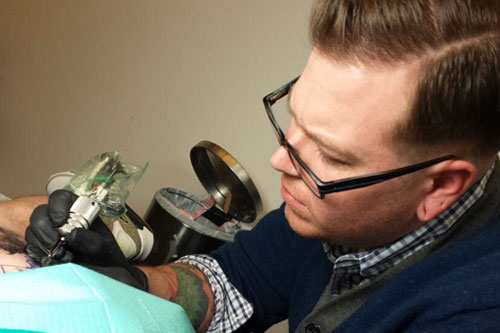 Hometown: Omaha, NE
Tattooing Since: 2006
Influences:
Biography
Jeremiah developed his interest in body art at a young age when he occupied his time by drawing on himself when he was just a kid. Not surprisingly, he started hanging out at local tattoo shops before he was even old enough to get inked.
Now owner of  Grinn and Barrett , Jeremiah's sharp wit and creative edge make his tattoos one-of-a-kind.
Tattoos
Art
Jeremiah is an amazing artist! He is the only artist in Omaha i will go to. He also is extremely easy to talk to. Thanks Jeremiah!

- Regan S.

If you want a real tattoo, there is no one better than Jeremiah!

- Scott

Jeremiah is one of the best! I came in with an idea and a picture, he did the rest! It is a beautiful piece of work! Everyone has complimented it, saying "It is a piece of art, not a tattoo!" I will definitely come back to him for my second! Thanks again, Jeremiah!

- Renee'

Dude, I love my scorpion! I didn't think it would turn that great, you're an outstanding artist and I'm proud to carry your piece of art on me. Thanks again, Jeremiah!

- Pascal Renault

its so amazing! every time i see my back i just want to stare! i just want to show it off to the world!

- Ashlie

Jeremiah made it look like I wanted it to, very real and detailed. I have received so many compliments on it already, I hope to send some business your way! Thank you for giving me a great first experience and a beautiful tattoo, I wont go anywhere else!

- Misty

Jeremiah is very good at what he does! I had my tattoo done back in december along with my girlfriends! Now that my cousin has seen mine he's also going to him, and it was just a script tattoo which is amazing! thank you jeremiah!

- Anthony

Jeremiah rocks. My very special tattoos were done masterfully with minimal discomfort. I've only had one other tattooing experience, a minor one, before Jeremiah did these and I must say, I'm so happy to have landed this artist.

And I'll second the fact that he's easy and fun to talk with.

- Lady Badlands

Jeremiah did a bad-ass job on my skin rip tattoo. I just gave him an idea and he ran with it. Its nice that someone will put so much care into art that they won't see that often. I'll be back though, you count on that. Thanks

- Joe

When I saw what Jeremiah had sketched for my tattoo I was beyond blown away. He knew exactly what I wanted and how I wanted everything to look. I couldn't have asked for a better looking tattoo. Won't go to anyone else but him. Thank you so very much.

- Anna

I came into the shop recently to get my first tattoo, i left with two awesome tattoos by Jeremiah that i absolutely love. He was attentive to what i wanted, offered suggestions and was just great throughout the entire process. I have no problem recommending him to everyone i meet. Thanks.

- Allan W.

Jeremiah is the only artist i will go to. His work is amazing and he is just a cool guy in general. I now live in southern california and I fly out to omaha to have my work done by him. I highly recomend him.

- Justin Emery

Jeremiah was my first tattoo artist the first day I was their I was scared outa my mind and had money to blow but Jeremiah kept on comforting me even wen it wasn't my time yet and so wen I first felt the needle I was glitchy then he basically again comfort me and that night instead of one I've gotten two!!!! Of them they all was shocked at my bravery but aproved of it!

-

slyclyde metoyer

lets face it. this dude is sexy.

- they call me sancho

Jeremiah did such an amazing job on my My Chemical Romance tattoo. I gave him a sketch of what I wanted and it turned out better than I ever expected. The coloring is gorgeous. Thank you again!

- Angie Lopez

Jeremiah is amazing, nuff said. I just got my first tattoo, and it is everything I wanted and more. The design has a lot of personal meaning to me, and I was worried it wouldn't be portrayed the way I would like. Jeremiah, however, took my basic sketch and turned it into an amazing piece of art. If I ever get another tattoo I will surely be going back to him!

- Caitlin

Jeremiah is the bomb dot com

- Marcos

Jeremiah did an awesome job on my tattoo! I took in a very rough idea of what I wanted and he made it fabulous! He was very personable and made the experience very enjoyable. I will definitely come back to him for my next one!

- Steph

Jeremiah is the BEST…….. he did my son's Trophy Hunter Deer and it was exactly like the picture… He is awesome….

- Cari & Cody Schwarck

Jeremiah Rocks! I had 2 tattoo's done, one on each arm. They look better than I could have imagined, and Jeremiah's creative process to turn my thoughts into a reality were spot on. GnB's staff is unbelievable too! I will be back for more work. Thanks Jeremiah!

- Chris King

I've had 2 tattoos done by Jeremiah. I got my 2nd one by him yesterday. I've already got a lot of compliments on the piece. Smile now Cry Later with the masks. Very detailed. Everybody asks where I got it done at. I tell them the only shop I have ever gone too. Grinn &Barrett. I'm very proud of my piece. Jeremiah. Is a very talented artist who's work is great. I will be going back real soon to get my sleeve finished. I recommend this shop to anybody. The artist a great

- Marshal Barnes

This is slyclyde back again, G&B is like my family and they know it I come to them with dedicated work that needs t0 be done to me and i have to say that it has been successful! you can always count on them to get the job done! I recently got my Neck! done on Wednesday and i took it like a champ a little hesitant tho but always had the comfort around me hearing the needles,voices,seeing the same people and good environment! PROPS TO G&B ALL DAYS EVERY DAY!!

- slyclyde metoyer

I just got a tattoo done by Jeremiah and it turned out amazing! He was so nice, professional and very patient with me while I decided exactly how and where I wanted my doves positioned on my ankle. Not only did he do an amazing job, but he also completed my whole tattoo in 8 mins!!! This was an added bonus, as I am a big baby when it comes to pain, lol…. I couldn't believe it when he said, "Okay, all done." I highly recommend Jeremiah as a tattoo artist to anyone interested in getting a tattoo. Also, G&B's staff is awesome as well! They are all so friendly and are open to answering all of your questions. Thanks so much G&B and Jeremiah for such an amazing tattoo experience!

- Claudia B.

I was an out-of-town visitor and was treated with the best hospitality. He found my design right away and had it printed before I even had my phone turned on to show him. I've had many comments on my growing vine and am proud to tell all that it represents my vegan commitment. Next time I am in Omaha, I will be back to see Jeremiah.

-

Tina Mischke

I came in with an idea for what I wanted for a tattoo and Jeremiah put it on paper and it was awesome. Once he got it finished it was the best tattoo that I've seen. He was very professional and did a wonderful job. I will be back to him and the staff at Grinn & Barrett for my net one.

- Matt

Jeremiah, thanx again for the kick-ass cover-up that you did for me. I love the wolf!!! Don't forget that I'll get with you again for my next cover-up. You so ROCK!!!

- Chata D.

Jeremiah did my first ever tattoo, He drew up exactly what I wanted, walked me through every step and explained, amazing artist, my first of many, and I wont be going to anyone else.

- Luke K.

Hands down the best artist that has done work for me. Plan on having him complete at least 2 half sleeves in the future. Would recommend to anyone looking for some quality affordable work.

- Robert

Jeremiah did my first tattoo and i couldent be happier with it I felt comfortable and had a fantastic first tattoo experience

- Darick Steinberg

Jeremiah did my first tattoo, couldn't ask for a better job than he did. He is easy to talk to and makes the experience great. I will definitely go to him in the future! Thanks Jeremiah!

- Zach V.

Jeremiah did my first tattoo, and four years later it is still outstanding. I no longer live in Omaha, but next time I visit I am making an appointment to have him do another. I will not get tattoos from anyone else. What a talented artist!!!

- Stephanie

I'm from a different state and have gotten all 3 of my tattoos done by Jeremiah. He drew them exactly how I pictured them. I couldn't be happier with how they turned out and I can't wait to get my next one.

- Kayla

Jeremiah has done two of my recent tattoos and a touch up on an old one and I am so impressed! His work is incredible. Can't wait for my next one!

- Cherish Calabretto

Jeremiah was phenomenal he is a true artist. He made my vision even better than I imagined. He is definitely my new and only tattoo artist.

- Andrew R

Got my very first tattoo from Jeremiah and so far he's been doing an outstanding job. Totally worth drive more than an hour.

- Pablo

Got my very first tattoo from Jeremiah and so far he's been doing an outstanding job. Totally worth driving more than an hour.

- Pablo